We're Getting Mutants in the MCU - The Loop
Play Sound
La Game Lobby
[
]
Il sistema di game lobby considte di un numereo di schermate, ognuna con le sue funzionalità.Alcune schermate servono ad ottimizzare le impostazione dell'utente, altre per l'interazione diretta con il gioco.
The main screens are accessed via the big header buttons at the top of the screen. Secondary screens are accessed via the main screens.
The lobby system is currently purely Flash-based but will with time be available (whole or in parts) on mobile platforms.
Currently there are 3 main screens which are the Character, Assualt Teams and Campaign screen.

Schermata Campagna
[
]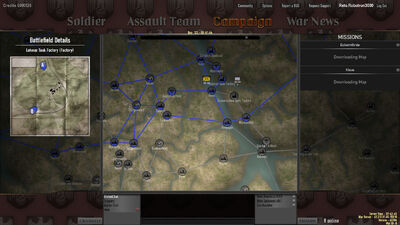 La Schermata Campagna dà una panoramica dello stato attuale della guerra. E' da qui che i Generali possono ordinare attachi. Azioni più complesse possono essere effettuate dalla gives you an overview of the current state of the war. It is also from here that a commander can initiate direct attacks. More complex commands are conducted from the Schermata Comando (Disponibile solo per giocatori di grado comandante).
E' formata da 3 pagine principali:
La War-Map

. Una grande mappa interattiva del teatro di guerra.
Lista Missioni Sidebar (Sulla destra)

Dettaglio Oggetti Mappa

Sidebar (Sulla sinistra)
Controlli:
Scorri la mappa con click-dragging (outside of any units or battlefields).
Ingrandisci/Riduci lo Zoom della mappa usando la rotella del mouse.
Schermata Personaggio
[
]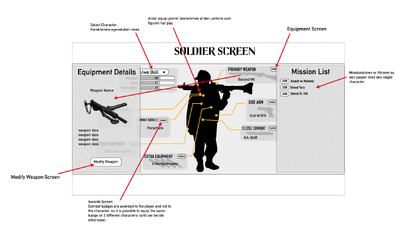 In questa schermata puoi ispezionare ed equipaggiare i tuoi soldati. (Personaggi actiongame). Questa schermata è collegata ad altre, come ad esempio la schermata equipaggiamento e la schermata achievement.

Schermata Equipaggiamento
[
]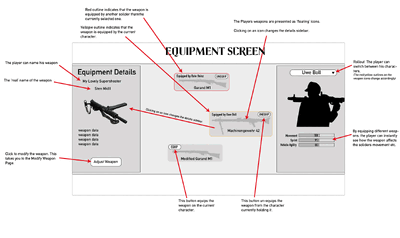 In questa schermata i giocatori hanno una panoramica di tutte le armi disponibile nella propria armeria.Da qui si possono equipaggiare le armi sui propri soldati, e si può accedere alla Schermata di personalizzazione delle armi, dove si possono modificarne gli attributi.

Schermata Personalizzazione Armi
[
]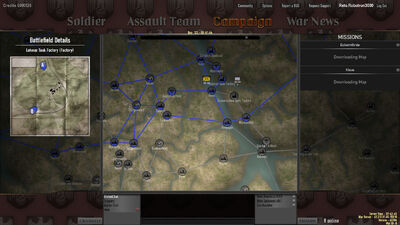 Qui i giocatori possono modificare e cambiare l'aspetto delle proprie armi.

Scherma Team d'Assalto
[
]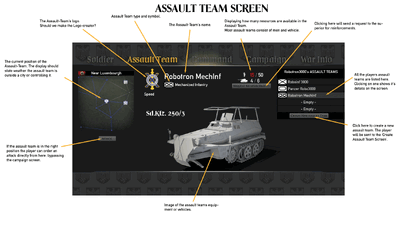 La Scherma Team d'Assalto è disponibile a tutti i giocatori che dispongono di un Team d'Assalto. In questa schermata il giocatore ha una panoramica dei suoi Team d'Assalto, il loro stato corrente, le risore, e la loro posizione.

Command Screen
[
]
When you are owner of one or more strategic commands you will have full access to the command screen. From here you can manage army resources and issue orders to your subordinate assault teams.
The main elements of the Command Screen
The Command Structure
[
]
The tree view on the main area of the screen displays where the command sits in the entire organization of the army. You can pan and zoom around to see other areas of the structure in the same way as the campaign map is navigated (double-click returns to original position/zoom).
There are mainly 2 parts that are interesting here; Subordinates and Reserves. Subordinates are the assault teams under your command and reserves are un-allocated reserve units.
Dragging a reserve unit icon on top of an assault team will transfer army resources to reinforce the assault team to it's maximum of the given type.
Command Details
[
]
To the right on the screen is a list of the possible 3 different commands that a player can own. From here he can create new commands and delete existing ones. Change Superior :Enables the player to choose a new superior for the command. Transfer Command :Enables the player to hand over the command to another player.
Assault Team Details
[
]
Clicking on an assault team icon in the command structure will update the details view to the left on the screen.
War News Screen
[
]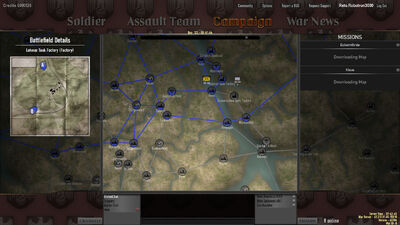 The war-news screen provide new updates on current battles and the general progress of the war.
Options Screen
[
]
Player Account Screen
[
]

Torna alla Home