Jurassic World: Dominion Dominates Fandom Wikis - The Loop
Play Sound
In order to get the game to run you need to follow a few steps. We are working on stream-lining this process to make it as easy as possible to get started playing.
Please take a look at this page to ensure you meet the necessary hardware requirements and have the correct drivers installed:
Azután folytasd ezzel az oldallal
Ha elakadnál, vagy felmerülne valami probléma, kérlek tájékoztass bennünket a fórumban.
Az első lépések
[
]
In this guide I am going to share my experiences as a new player while at the same time explaining some of the core mechanics! This guide is aimed for new players who want to learn the basics of the game.
Irányítás
[
]
Before you start playing it would be a good idea to take a look at the game's controls to get a basic idea of how things work.
Besorozás
[
]
If you have an alpha key you can start playing immediately by going here.
Pretty straightforward, just write your username and password and you are ready to go! But because Heroes & Generals is still in an Alpha stage developers organize play sessions only in certain days.
Players can check when the next play session is going to take place by visting the events page or you could join the official steam group, play sessions are announced some minutes before the battle starts.
When the timer reaches zero the login page will be unlocked and you can access the game.
Csatatér
[
]
After entering for the first time the browser will start a program called H&G Sync. This is a small launcher-program that handles downloading the files needed to play. Some buttons cannot be pressed at the beginning but they will activate once the game gets downloaded. The download size is currently around 450 Mbytes, but you will only need to download that once, after the first time H&G Sync will make sure that you have the right version of everything so you only need to download updates.
At the top right part of the screen we can find basic features such as:
Community - Leads to the Heroes and Generals news
Options - We can only change graphical options while playing in the client
Report a BUG
Request Support
Log Out
At the bottom we can find the chat, we can switch trough the avaiable channels and we can also send private messages to other players by clicking on their name. Press the "Channels" - Button to manage your channels (create new channels or subscribe to existing ones).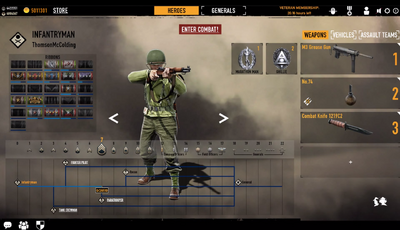 When you first login you'll be introduced to the Campaign Screen, where players can battle in specific missions versus other players. In the Character section we can enlist as a certain infantry but for now we are going to ignore this as we need more credits before being able to enlist, we start with 0 credits but as we win battles versus the Axis or the Allies we can accumulate the necessary money needed.

The War News contains informations about the patches released by the developers and much more.

Küldetések
[
]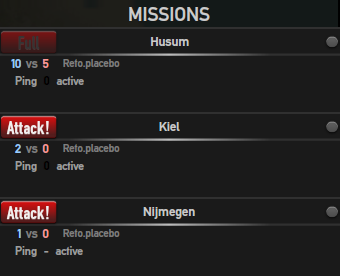 It's time to go to war! We can easily join a match by either clicking on the Play Mission button which automatically chooses for us where to go or by selecting a mission from the menu at our right.

In the Mission sub-menu we can see how many players are fighting, (Allies are Blue and the enemy players are shown as Red) and who created the mission (Reto.placebo) and the location where the battle takes place (Husum).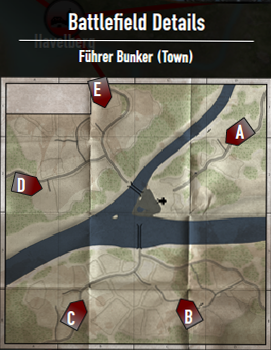 By clicking on the rounded button near the mission's location the game is going to send us in the main map showing us the location where the fight takes place, it can be useful to see which areas your allies have already captured and what spawn slots are available.
There is a wide variety of missions which players can complete, whenever you win a mission you earn credits and new captured territories, they can also grant more supplies needed to keep the war going.
Ground Action
[
]
Upcoming Ground Action
[
]
Support

- Join an ongoing battle

Destruction

- Destroy bridges or train tracks to disrupt supplylines

Gather Intelligence

- Find and retrieve documents to reveal enemy positions on the campaign map

Ambush

- Attack transport with ground troops

Assassination

- Attack strategic command HQ and kill the commanding officer
Air Missions
[
]
Close Air Support

- Join an ongoing battle

Supply Attack

- Attack a transport on a supplyline

Not every location is known tough, sometimes even friendly territories may appear as classified but that's because they are still work in progress maps.
In the campaign players can also battle directly in so called Live Battles. Whenever a Live Battle is taking place the icon's location will it catch on fire.
Ütközetek
[
]
Now it's time to load the real game. The game automaticaly starts in Windowed Mode so it would be a good idea to push Alt + Enter to enter Full Screen mode.
After the game finishes to load you'll end up in the spawn selection screen. If you would like to play as a different faction just push F11 to go to the other team.
You can either spawn by using an access point if you are assaulting or you can click on the stars and dots in the map wich represent captured objectives by your team to set your spawn point.
Each access point can represent a different type of assault teams.
HUD
[
]