To obtain a Tank Crewman, you will first need to reach Player Level 3 to unlock the option to buy a Tank Crewman.
Your first tank will be free of charge (the M2A2 if you are US player, Panzerkampfwagen I Ausf. A if you have joined German side and the T-38 Model 1937 if you joined the Soviet Union); whatever the faction, it is a light-armored machine gun tank, ideal against infantry, but helpless against armors.
By increasing the armor ribbon, you will unlock better armors.
Note that, as any equipment, tanks will need to be repaired and ammo refilled between two missions. Expensive tanks are expensive to maintain, and it may not be a good idea to waste ammo or suicide your tank many times in a battle.
Tank Controls and Upgrades
[
]
Tank Driving
[
]
When you get in a tank manned by multiple crew options, you can use C to switch between seats: driver (main seat)/MG (secondary seat). Note that most light tanks only have 1 seat.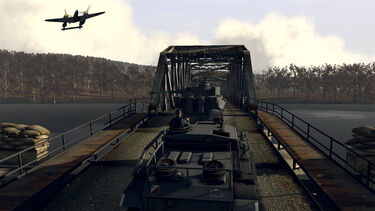 Driver position:
When you are in driver position you can use the mouse wheel (or page up/page down) to switch between:
3rd person outside
1st person outside (Cupola)
1st person inside (Window)
Zoom view inside (Gunsight view)
Tank mobility and vision are increased in the third person view, at the cost of any protection from small arms fire. Use the Ctrl button to get your head down a bit (lower field of view, better protection). You cannot use weapons on 3rd person view. In some tanks this will render you almost totally blind, and in other a rather acceptable compromise between third and inner view options.
Inside the tank, lower mobility and restricted vision/view are inflicted, but there is full protection from infantry fire and grenades. (Sticky grenades and H3 will still harm your tank.) Inside a tank, you can use the main weapons.
MG position:
Some tanks have a secondary seat with a MG (Machine Gun). Depending on vehicles, it can be inside or outside, thus offering different level of protection to the second crewman. It is also worth noting that one can unlock the secondary seat for non-tank personnel by pushing the 4 key by default. They will usually control the support weapon and will have a 3rd person view of the tank and a limited cone of fire directly in front of the tank, so keep this in mind when setting yourself up.
note: now the standard configuration puts it on team, pressing 4 will actually lock the gun instead now.
Tank movement tips:
Use shadows, trees, and other objects for cover and camouflage.
Look for higher or non-obvious positions from which to effectively support advances or defend positions
Ensure that when you are engaging enemy Armor you do so with your maximally thick armor plating facing them (the front of the tank). Engaging with your flanks exposed will reduce your survivability.
When assaulting urban areas stay close to infantry or move quickly, loitering on corners where you have low visibility of vantage points will result in anti-tank fire you can do little about.
Be careful of harsh gradients, sudden drops or rises and awkwardly slanting ground. Though tanks have all-terrain tracks that give them good traction and maneuverability on most ground, they are not always stable and flipping your tank over is easier than you think!
When moving, always keep your head INSIDE the tank. This is to prevent infantry shooting you and stealing your tank.
You cannot see over the edge of a sharp ridge. Be careful of infantry or tanks lurking below the horizon. It can be difficult to bring your gun to bear whilst your tank is bouncing around.
Tank Gunnery
[
]
Inside a tank (1st person view), you can use the main weapons, and switch between the following:
Main gun
Main gun secondary ammo (optional)
Secondary gun (coaxial MG)
Note that switching from main gun to secondary gun is instantaneous. Switching from main gun primary ammo to secondary ammo will take time (reloading the gun).
Tank gunning tips:
Firing the coaxial from 1st person inside view is great for avoiding AT infantry without zooming in. You may also find it useful for targeting opposing armour and vehicles at closer range or faster speeds. There is usually no horizontal axis marker, however, so it is best to get used to the sights before expecting to make penetrating shots outside precision mode.
When attacking another armor, look for the "Armor too thick" message. This means your ammunition cannot penetrate the other armor, you can stop wasting your ammo. Note that most of the tanks have different armors on different parts. Usually, the turret is best armored, and the sides and back are less armored. This means that you should roll around enemy before shooting them from the back.
Remember that this game has armor penetrating physics, this means that angled armor is much stronger than armor straight on. This is why the Soviet T-34, even if it only has 45mm of armor, acts like it has more because of the curved frontal armor. Usually, angling your tank 20-45 degrees (depending on the tank) will increase your probability to bounce enemy shots. This "bouncing of shots" is what happens when you shoot at a tank and it says "Impact angle too high". Bouncing a single shot may mean the difference between victory and defeat.
Tank upgrades
[
]
Modifying tanks is extremely important for keeping an edge over the enemy on the battlefield.
See details on Vehicles customization.
Basic Strategies
[
]
Basic strategies with tanks
The tank is not a god-mode. It is an easy target for planes, and it will attract hatred from other tanks, and anti-tank infantry. Basic strategies thus are:
stay hidden
be mobile, in particular after a kill
run when you see infantry running toward you, he probably has deadly anti-tank mines!
What should I do with my Machine Gun tank?
The base tank is often disliked by players, but it is often misunderstood while quite useful. It is an anti-infantry tank and should be used like that. Its MGs are extremely precise (while coaxial MGs of bigger tanks usually are not). The tank is also very efficient against non-armored vehicles. Of course, it can only destroy very light tanks, from sides or back, and its armored is really thin. Therefore, stay away from other tanks, and support infantry, more than ever (this includes buying supply crates).
What should I buy after my MG tank?
See below the list of tanks available, and which ones are unlocked by your Armor Assault ribbon. See the details of the tanks, and before making your choice:
See the armors (defense) and caliber (attack) of the tank, to see its efficiency in combat.
Remember that a heavier tank is a slower tank. On the contrary, a fast tank is good for reconnaissance and hit-and-run, even if it is more fragile.
A more expensive tank is also more expensive to repair and maintain.
Ribbons
[
]
The Armor Assault ribbon is the way to unlock new armors. There are two additional ribbons regarding tanking, which unlock badges and equipment useful for the role.
Tanks Available
[
]
U.S. Armor
[
]
Light Armor
Medium Armor
Heavy Armor
Medium Tank Destroyers
Armored Personnel Carrier
German Armor
[
]
Light Armor
Medium Armor
Heavy Armor
Medium Tank Destroyers
Armored Personnel Carrier
Soviet Armor
[
]
Light Armor
Medium Armor
Heavy Armor
Medium Tank Destroyers
Further Reading
[
]